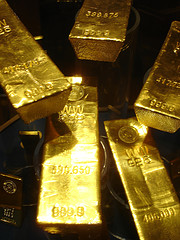 Are you thinking about creating a new company or developing a new technology? Maybe you should have a look at the Business 2.0 article titled "20 Smart Companies to Start Now". It features 20 opportunities that venture capitalists are willing to invest (heavily I should add). The article has a detailed explanation of what the money guys are looking for, and it even include email addresses to get in touch with them.
Below you will find the 20 projects and the available investment:
An in-dash computer with a keyboard built into the steering wheel and a full-screen heads-up display projected on the windshield ($5 million)
A new database company ($3 million)
An ultracapacitor, capable of powering everything from cars to tractors. Unlike chemical batteries, ultracapacitors store energy as an electrical field between a pair of conducting plates ($4 million)
A lithium-ion battery with five times the life of anything found in cell phones, PDAs, or cameras ($2 million)
A Web-based platform to make company spreadsheets–for revenue forecasting and other analytical chores ($5 million)
A wireless device capable of 24/7 patient and data monitoring for conditions such as heart disease and diabetes ($10 million)
A team of researchers that can identify, patent, and market new uses for prescription drugs with expiring patents. ($10 million)
A new type of Web search to mobile phones ($2 million)
GPS-enabled ads and coupons piped to your mobile phone at just the right time and place ($3 million)
A text-messaging software that allows local merchants to send offers to mobile phones ($5 million)
An online marketplace that automates the sale of product placement for Hollywood studios ($6 million)
A matchmaking site that brings new forms of advertising to one of the Web's fastest-growing new phenomena, the video blog ($2 million)
An international network for indie artists, musicians, filmmakers, authors, designers, and other creative types from dozens of countries ($10 million)
A Web-based service that allows users to combine their own videos with a library of licensable clips and music to create video mashups online ($4 million)
A design scheme for a community of affordable new homes, packed with luxury amenities and based on green values ($5 million)
Concierge-grade trip planning over the Web ($5 million)
An environment-friendly office-maintenance service ($1 million)
A device that can identify new types of hospital-borne infections in just a few hours ($10 million)
A Web-based service that helps small online publishers choose the most profitable way to sell their ad inventory ($3 million)
The next massively multiplayer online hit ($5 million)
What are you waiting for? Click here to read the article.