Ever experience a power failure that made you lose a precious document that you were working on? What about files or programs that get deleted accidentally (sometimes not even by yourself if you share a computer…)? Those are quite annoying, but with the right software you should be able to overcome such hassles.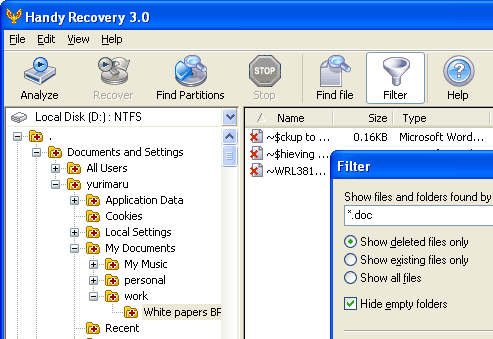 Handy Recovery is a software that will enable you to recover files. Basically you will run the analysis tool of the software, and it will map all your hard disk, including the present and previously deleted files and folders (which are marked with a different icon).
In order to restore a file you just need to press the "Recover" button, and the software will tell you what is the probability of recovering such file (bad, average or good). The software is compatible will virtually all Microsoft Windows versions, from Windows 98 to Vista, and it operates both FAT and NTSF memories.
Right, you say, but what about the price? The full version of the product costs $39. There is also a 30-day trial version if you want to test the software, the only limitation is that you will be able to recover only 1 file per day.
This review was sponsored by Softlogica.