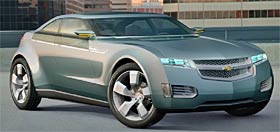 General Motors is planning to have a working prototype of their all-electric car, called Volt, already by the end of 2007. Additionally they are aiming to start producing the model by 2010. Looks like a challenging goal, but some top managers are confirming this strategy.
Bob Lutz, Vice Chairman of GM, commented: "Competitors who write this off as a PR exercise are going to be brutally surprised."
You can read more about the Volt here.